Every girl is like a Queen. Staying tough and making the right decision is not easy; it is the ability of the Queen to make the right decision at the right time. In this article, you can find the best Queen attitude status, which you can use on WhatsApp, Facebook, and Instagram.
Girls Attitude Status | Girls Dpz
Attitude Queen Status in English
•°¯`•• I αɱ α Qυҽҽɳ, αɳԃ I ԃσɳ'ƚ ɳҽҽԃ α ƙιɳɠ ••´¯°•.
❈ 🎀 𝐈 𝐚𝐦 𝐄𝐥𝐬𝐚, 𝐚𝐧𝐝 𝐈 𝐝𝐨𝐧'𝐭 𝐰𝐚𝐧𝐭 𝐭𝐨 𝐛𝐞 𝐚 𝐂𝐢𝐧𝐝𝐞𝐫𝐞𝐥𝐥𝐚 🎀 ❈
I'll treat you like a king if you treat me like a Queen; if you treat me like a game, I will show you how to play.
𝕿𝖍𝖊 𝖘𝖒𝖎𝖑𝖊 𝖔𝖓 𝖋𝖆𝖈𝖊 𝖆𝖓𝖉 𝖘𝖙𝖞𝖑𝖊 𝖎𝖓 𝖑𝖎𝖋𝖊 𝖎𝖘 𝖆 𝖇𝖆𝖘𝖎𝖈 𝖖𝖚𝖆𝖑𝖎𝖙𝖞 𝖔𝖋 𝖆 𝖖𝖚𝖊𝖊𝖓. (Make your status beautiful with Insta-fonts.com)
Red lipstick and black dress h I need to rule an empire.
For Papa, I am a princess. For mama, I am a fairy, and for mobile, I am a selfie queen.
I only tell them what they are; I never insult people.
Cool life, cool rule, that's my attitude.
Related: Attitude Girl Status
Be a lady with class and be a girl with nature.
It's the way I am. It's not my attitude.
Perfect girls are not real, and real girls are not perfect.
Do you know what my favorite exercise is? It's my smile on my face.
My smile is more killer than your attitude.
What! You don't like me, oh really, I don't care.
If a girl ignores you, it means you hurt her.
Short Queen Attitude Quotes
If you have some guts, then Say it on my face, not through your status.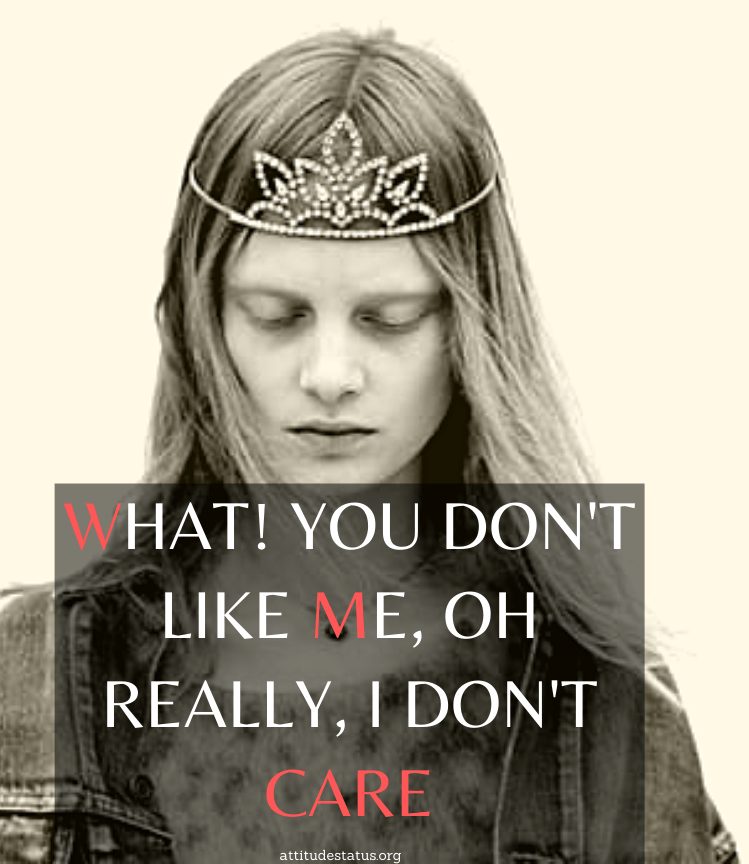 You can only judge me when you are perfect.
Hey you! Before you judge me, try to keep in mind that you are probably a piece of shit too!.
Do you know what the big slap on your hater's face is! It's your success.
I don't care about your opinion; I know I am perfect.
My makeup is my weakness, and my smile is my beauty.
Don't waste time looking for the perfect lover instead of creating pure love.
You don't understand the story, don't judge my choice.
Not everyone has good taste, so it's ok if they don't like me. (WhatsApp status)
You like me; I like you, you lost me, I lost my "TIME." ( WhatsApp status).
Hey, you are the one who is reading my status SMILE.
Girls! Don't be proud if everyone likes you; always remember cheap items have more demand.
Related: Attitude DPS For gIrLs
Don't act cool you can't make me fool, don't stress me, you can't impress me.
My style and my attitude both are better than yours).
It's a matter of time. If you lose me once, you will lose me forever.
You should try it once; I don't change; I just grew up.
Listen, I don't need anyone to trust me, I just believe in myself, and that's enough for me and my attitude.
Hay! hey, you don't like me, Same here.
I am precious. I am a limited edition of a famous brand.
I give you life!! I am better than Hype!.
Do you know what a girl is? Thousands of pain inside but the smile on my face.
Boys, if You can't handle us, don't show us your attitude.
I am an odd combination of too good and too cute.
Girls are born to be real, not to be perfect.
Girls should be two things, cute and sexy.
Act as a lady, think like a Queen.
Girls always keep their heels, head, and standards high.
Hey girl! It only takes one bad boyfriend to realize that you deserve more.
(A girl status) Ego my passion, Attitude my Hobby.
Nah! I'm just cute; I'm not short.
Try motivating yourself, Instead of making them v.i.p every time.
I like those who don't like me.
I know I'm cute; keep your evil eyes away from me.
Lipstick, coffee, black, and sarcasm make perfect sense for girls.
These attitude statuses are for those girls with the qualities of vision, curiosity, respect for others, courage, and bravery. You can find badass, motivational, cute, and inspiring attitude status and quotations in this article. So move on! And try these cool attitude statuses on your WhatsApp, Facebook, and Instagram Id.
Scroll down for Royal attitude status.